The Board of Directors of Arma Dei Academy consists of current and past parents, and interested community members who are passionate about the mission and committed to ensuring its prosperous future. Our board of directors are not compensated for their service to the academy.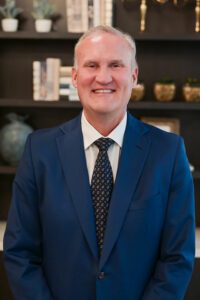 Interim Chairman of the Board
Mr. Scott Macdonald currently holds the position of Chief Financial Officer for Starz, LLC. Mr. Macdonald graduated from the University of Wyoming with a Bachelor of Science degree in accounting. He is currently a member of the American Institute of Certified Public Accountants and the Colorado Society of Certified Public Accountants. Scott is married to Anne, has three children. He and Anne are one of the founding families of Arma Dei and formerly served on the Valor Christian High School Board of Trustees.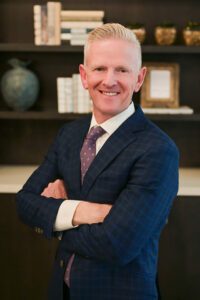 Mr. Matt Call is the Founder and Principal of NavPoint Real Estate Group, a commercial real estate services firm based in Castle Rock, Colorado. Matt and his team currently direct the sales, leasing and management of a diverse portfolio of commercial real estate throughout Colorado. Matt is also a Founding Principal of Dormie Capital Partners a commercial real estate investment firm that owns property throughout the state of Colorado. He is a fourth generation Colorado native having attended the University of Colorado in Boulder on a golf scholarship where he earned his undergraduate degree. ​ Matt ​makes his home in Douglas County with his beautiful bride, Stacey, and three daughters where they enjoy skiing, golf, and just about anything outdoors!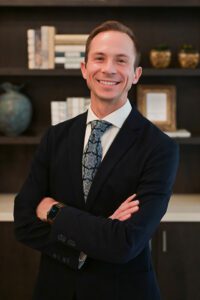 Dr. Kyle Klepacki is a Pediatric Dentist and Partner at All Kids Dental P.C. in Evergreen, CO. He received a BS in Biology and Minor in Chemistry from Concordia University while serving as captain of the soccer team and qualifying four times for the NAIA regional golf tournament. In addition, he was awarded Scholastic All-American honors in both soccer and golf. He attended Marquette University School of Dentistry where he met his wife Jayme, and received a DDS degree. He then continued his dental education at Children's Hospital of Wisconsin where he earned specialty status (Cert. in Ped. Dent.) and was honored to be selected by his attending doctors as the Chief-Resident.  His educational accomplishments were supplemented with board certification from the American Board of Pediatric Dentistry in 2010. Dr. Klepacki is an Elder at Shepherd of the Hills Lutheran Church in Centennial, CO. He enjoys spending time with his wife and four children and still dabbles with athletic endeavors when he can find the time.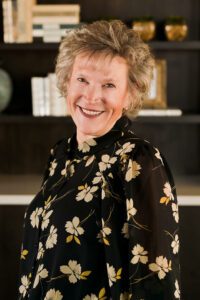 Co-founder, former Curriculum Director and AP English teacher at Coram Deo Academy, Robi A. Marshall joins us from the Marshall Education Group, a company providing innovative solutions for classical and Christian schools.Mrs. Robi Marshall brings 34 years of experience to administrators, teachers, parents and students. Active in the education field since 1976, her resume includes launching successful Christian schools, assisting in the renaissance of the classical Christian Movement, and innovating new programs within existing classical schools. Having spoken at over one hundred public forums explaining the depth of and necessity for classical education, she regularly trains classical Christian teachers.
Mrs. Robi Marshall is a popular speaker at Women in the Church events, Homeschooling and Christian School conferences; speaking on a diverse slate of topics including the arts, understanding the brain, self-education and classical pedagogy.
Firmly believing the Latin proverb, Cum docemus discismus, While we teach, we learn – Mrs. Robi Marshall remains passionate about cultivating a comprehensive liberal arts education.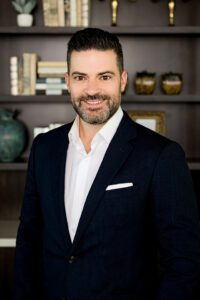 Adam Hebener is a serial entrepreneur and business owner. Currently he holds the position of CEO of  Modern Mortgage, a full service residential mortgage bank. He is a regular speaker on various topics including macro economic trends, business building and social issues. In addition to his professional life, Adam also serves as one of the Pastor Elders at Littleton Bible Chapel, where he seeks to faithfully love and guard the Lord's people. He has served on numerous charitable and advisory boards for both for-profit and non-profit organizations.
His greatest accomplishment is marrying his wife of 19 years, Sophia. He and his family live in the foothills of Denver where they are raising their three sons to love and revere the Lord Jesus.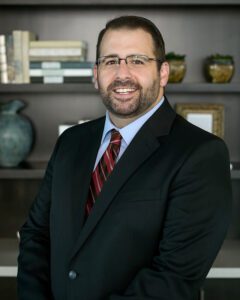 Mr. Seth Joraanstad is the Chief Financial Officer of a national commercial roofing and renovation company, Dynamic National. He has over twenty years of experience in Accounting and Finance roles in the construction management, manufacturing, and cybersecurity industries. Seth earned his undergraduate degree from Biola University in Business Administration-Accounting, and his Master's in Operations Management from Regis University. Additionally, he serves on the Board of Directors of his church, Wellspring Englewood Anglican Church, as the Treasurer. Seth also has a passion for aviation and holds a private pilot instrument rating, and has logged over 650 hours of flying time. He lives in Highlands Ranch with his wife, Megan, and two children and enjoys traveling, wrenching on cars, and cheering on the San Francisco Giants!