Homeschool Collaborative (1st - 5th Grade)
Arma Dei Academy's mission is to glorify God by providing an excellent classical Christian education founded upon a biblical worldview which equips students to live purposefully and intelligently in service to God and others. In the spirit of Deuteronomy 6, Arma Dei's Homeschool Collaborative mirrors this vision in our partnership with like-minded homeschooling families. We seek to harmonize the significance of the family's role in their children's homeschooled education by supporting parents with community, curriculum directives, accountability and home support.
The Homeschool Collaborative is a unique partnership in which classroom teachers co-labor with parent teachers in the education of their children at school and at home. Collaborative students benefit from a brick and mortar classroom experience two days per week, and continue that learning with their teaching parents at home three days per week.  Primary benefits include a classical Christian education that in addition to the core subjects of math and language arts, also includes latin, science, music and art, along with flexibility that better supports family culture, more individualized instruction, part time tuition cost, and fewer days in commute to school.
Why Choose A Homeschool Collaborative Program?
The Homeschool Collaborative bridges the learning atmosphere of a formal classroom and an enriched home in an intentional effort to maximize student learning in a blend of the best of both settings. The Collaborative is intentionally relational and brings together classically minded Christian families committed to cultivating wisdom and virtue in their children so that as life-long learners their affections are aligned to love the true, good and beautiful.
Homeschool Collaborative Program Information
Grade Levels: 1st – 5th Grade
Subjects Taught in Classroom: Bible, Medieval History through Story of the World, Composition, Literature, Science, Latin, Art, and Music.
Subjects Taught at Home (Arma Dei provides support and resources): Logic of English, Literature, Singapore Math, and other subjects at parents' discretion.
Class Time and Schedule: 
8:15am – 3:30pm Monday Enrichment (Grades 1st – 3rd)
8:15am – 3:30pm T/TH (Grades 1st – 5th) 
8:15am – 3:30pm T/W/TH (Grades 4th & 5th)
Class Size: Students in grades 1st – 5th will be combined as 1st, 2nd/3rd, and 4th/5th grade classes. 
Dress Code: Arma Dei Academy requires that each student wear a school-approved uniform to enhance the atmosphere of learning, minimize ambiguities, and foster a spirit of camaraderie among the student body. The student is identified with a group that strives for excellence and the policy is established toward that end.
Parents should be sure that from head-­to-­toe, each of their children is an excellent representative of Arma Dei Academy. We request that students arrive at school with their uniforms in neat, clean, and good condition.
Arma Dei Academy also maintains a 'Uniform Closet' where parents may recycle and/or pick up gently worn uniform items.
Location: 345 Wildcat Reserve Parkway, Highlands Ranch, CO 80126
Contact: Kristina Wright, Director
(303) 588 – 6143
kwright@armadeiacademy.com

.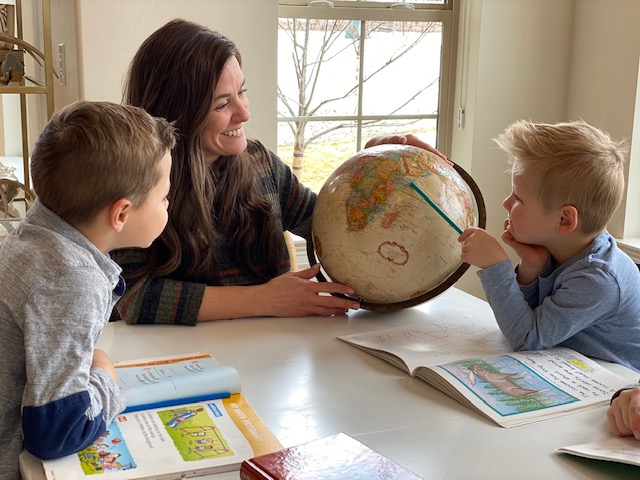 What Others Are Saying...